What:
EVENT FULL—Headwaters & Glen Canyon—EVENT FULL!
When:
December 3, 2019 @ 1:30 PM – 4:00 PM
2019-12-03T13:30:00-08:00
2019-12-03T16:00:00-08:00
Where:
Cuesta Court
Adjacent to 2 Portola Drive
Cost:
Donation $25 - $40 suggested
Thinkwalks presents an exploration walk:
The Headwaters Hike into Glen Canyon—EVENT FULL!
This exploration filled very fast. Get on the waiting list and I'll let you know when I schedule a 2nd similar walk for a nearby date. To get on the waiting list, RSVP using the Reply-Comment form at the bottom. All RSVPs from now on will go on the waiting list. Thanks! –Joel
Come join us for a natural history exploration and hike through n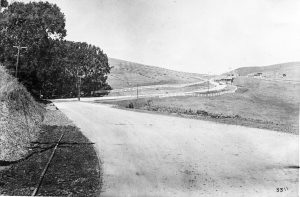 eighborhood streets and the (potentially muddy) Glen Canyon. We'll start at the headwaters of Noe Valley then go down rocky, muddy, wooded trails into Glen Park. We'll look at springs and former springs, creeks disappearing into sewers, creeks flowing freely through Glen Park, old photos and former creek beds. We'll try to identify remnants of an early grove and we'll end at Glen Park BART.
There will be casual, participatory discussion and a few map unrollings during brief presentations from your guide, water mapper Joel Pomerantz. Get to know how the south and southeast slopes of Twin Peaks fit the bigger picture of San Francisco water history and social landscapes.
The total walk length is less than three miles. It will include short difficult sections climbing or descending steeply. We will stop and discuss for a time in various places, so don't depend on hiking to keep you warm—bring extra layers!
☆ RSVP required
↪ Rain, fog or shine
↪ If you can't afford the suggested donation, pay what you like.
↪ Maximum 11 people. If you're reading this, there are still at least 2 spots open.
Contact